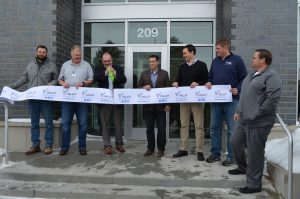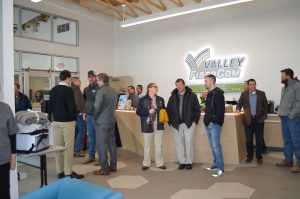 Valley FiberCom is pleased to announce that the Customer Service Center/Central Office location at 209 Kasan Ave in Volga is now open! The official ribbon cutting ceremony for the new business was held on Tuesday, January 22nd at 1pm on the front steps of the new FiberCom office. General Manager/CEO Jeff Symens offered some remarks and Pastor Dan Overbo of the First Lutheran Church provided the blessing and prayer for the new building and FiberCom staff. Guests were then treated to cookies and coffee in the building's beautiful and spacious conference room. Valley FiberCom hosted a "Cossacks Watch Party" in the evening to finish off the day's festivities.
Assisting with the ribbon cutting were Randy Roiger, Clark Drew Construction; Michael Schlomer, President of the Valley FiberCom Board of Directors; Valley FiberCom General Manager/CEO Jeff Symens; Kyle Raph, Co-Op Architecture; Jameson Berreth, Volga City Administrator; and Randy Sentema, Volga City Mayor.
Valley FiberCom is very excited to be a part of the Volga Community! Thank you to all who stopped by to help us celebrate our new beginning!